RussianPod101
Would you like to learn Russian with interesting and easy listening podcasts? RussianPod101 calls itself "the fastest easiest and most effective way to learn Russian"! This is pretty much true…
Besides the podcasts this resource offers the whole system of audio, video, and text tools and exercises that will make your learning captivating and effective. The lessons are grouped into five levels: Introduction, Absolute Beginner, Beginner, Intermediate, and Advanced. There you can also find pages dedicated to Russian Pronunciation, Russian Alphabet, Word of the Day (which you can get by email by the way), 100 Most common Russian words, Introduction to Grammar, etc.
If you are an active mobile device user, RussianPod101 has a full range of applications for you, available both for iOS and Android.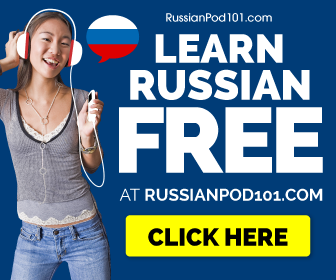 There are a few options how you can access all these wonderful tools:
Free Lifetime Account members: For the first 7 days of your account, you will receive 7 days of free Premium Access. After this trial, you'll be able to access the audio lessons from the past 3 weeks. As a Free Member, you will also have access to the Russian Resources in the top menu, Word of the Day, Core 100 Word List, the first 3 lessons of every series and season, lesson commenting, and the community forum.
Basic Members: Basic members have access to every single audio and video lesson and accompanying PDF Lesson Notes, Basic Lesson Feed, and the free tools listed above.
Premium Members: Premium members have access to the entire learning system. This includes every audio and video lesson in our archive, PDF Lesson Notes, Premium Lesson Tools, My Word Bank, the entire Core 2000 Word Lists and Autoplay, My Flashcards and the Premium Lesson Feed.
Visit the site: russianpod101.com